Protesters supporting former President Donald Trump clashed with cops and the media outside Manhattan court on Tuesday, ahead of his arraignment.
Police divided the park in half, with Trump supporters on the south side and counter-protesters on the north.
Several armed NYPD snipers were spotted on the roofs of several buildings as police helicopters circled overhead upon Trump's arrival.
Over the weekend, Trump's attorneys stated that they planned to file a motion to dismiss all charges stemming from Manhattan District Attorney Alvin Bragg's investigation. And Trump said on Tuesday that his case should be moved to Staten Island, New York, which has a larger Republican voter demographic than Manhattan.
Trump posted on Truth Social moments before his arrival. "VERY UNFAIR VENUE, WITH SOME AREAS THAT VOTED 1% REPUBLICAN. THIS CASE SHOULD BE MOVED TO NEARBY STATEN ISLAND – WOULD BE A VERY FAIR AND SECURE LOCATION FOR THE TRIAL,"
"ADDITIONALLY, THE HIGHLY PARTISAN JUDGE & HIS FAMILY ARE WELL KNOWN TRUMP HATERS. HE WAS AN UNFAIR DISASTER ON A PREVIOUS TRUMP RELATED CASE, WOULDN'T RECUSE, GAVE HORRIBLE JURY INSTRUCTIONS, & IMPOSSIBLE TO DEAL WITH DURING THE WITCH HUNT TRIAL. HIS DAUGHTER WORKED FOR "KAMALA" & NOW THE BIDEN-HARRIS CAMPAIGN. KANGAROO COURT!!!" he added.
Supporters of the nation's 45th president held signs reading "Trump or Death," while opposition held signs reading "Lock him up" and "IndicAted" — a reference to how Trump misspelled indicted in a post on his social media platform Truth Social.
Rosa Cerrato stated that she is not interested in any evidence revealed as part of these proceedings.
"We don't care if he's behind bars. We still want him to run. Run for president no matter where you are or what's going on or what they do against you," She stated.
"When he was president, he made us feel safe, and he improved our lives." Our economy was able to grow. We were able to feel sure about our future and the future of our children."
Hundreds of Trump supporters, some wearing MAGA hats, and Trump protesters, blowing whistles and banging tamborines, had filled the barricaded park by the time Trump arrived at the courthouse.
Trump supporters said they do not care about the details revealed as the indictment is unsealed because they believe the proceedings will only benefit their president.
for those on the other side of the barrier, there is hope that the law is finally catching up with Mr Trump, and that today is just the beginning of America's legal and judicial system holding him accountable for his alleged crimes.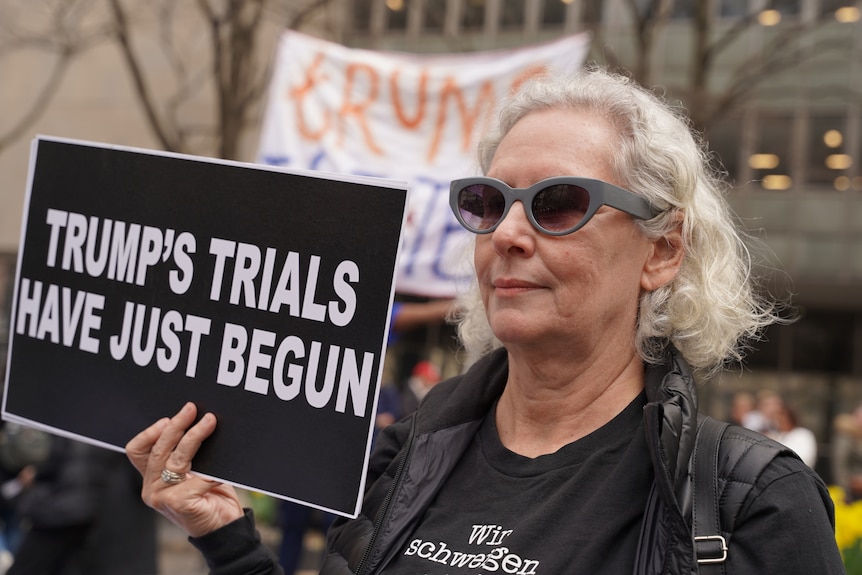 Jennifer Fisher stand on the anti-Trump side of the fence.
Rep. Marjorie Taylor Greene, a fiery Georgia Republican and staunch Trump supporter, was among those attending a pro-Trump rally at the park.
"I am here to protest, use my voice, and take a stand," Greene said through a megaphone to Trump supporters.
"Every American should take a stand.," Greene said."This is what communist countries face, not the United States of America." We must take a stand against injustice, corruption, and communist Democrats."